The Three Principles of Improved Manufacturing
Total production system that can respond to customer needs
From product development reflecting customer needs to product assembly.
Aida Manufacturing strives to increase speed, reduce costs, and improve productivity. We have a total production system designed to provide our services flexibly and comprehensively.
Technology based on a wealth of experience and state-of-the-art equipment
Aida offers experience and know-how built on a firm foundation of 80 years in the business.
We have machining centers, PIPE NC benders, CATIA, and master CAM. These technical capabilities ensure that our customers can always receive consistently high-quality products.
Highly skilled technical staff drawing on 80 years of experience
Since its establishment in 1939, Aida Manufacturing has engaged in sheet-metal press fabrication of automobile parts as well as building and construction materials.
Based on an abundance of experience and know-how cultivated over a long and proud history, each and every one of our people is a professional committed to the highest standards of craftsmanship. The white uniforms we wear demonstrate this commitment to honest-to-goodness craftsmanship.
A message from Aida Manufacturing
Since its establishment in 1939, Aida Manufacturing has pursued the way of craftsmanship, dedicating itself to the manufacture and sale of automobile parts as well as building and construction materials and components.
The industrial environment is ever-changing. We have at all times stayed in step with the times, making high-precision products to meet the needs of motorization.
We will continue listening carefully to our customers to make valuable products that reflect our customers' needs.
Representative Director and CEO, Michiya Aida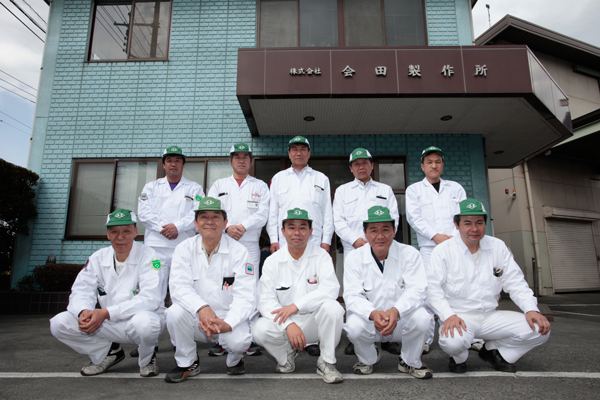 Company Overview
Trade Name
Aida Manufacturer Co., Ltd.
Description of Business
Manufacture and sales of automotive parts
Manufacture and sales of building and construction materials
Other sheet-metal press processing
Established
April 3, 1939
Capital
25,600,000 yen
Representative
Representative Director and CEO, Michiya Aida
Head Office
30-8 Miyamoto-cho, Itabashi, Tokyo TEL:03-3960-0021
Okegawa Factory
2146 Kanou, Okegawa-shi, Saitama TEL:048-728-5015
Area: 5,676 m2 Factory building area: 2,541 m2
Number of Employees
100 (including part-time and temporary employees)
Banks
The Shoko Chukin Bank, Ltd., Saitama Branch
MUFG Bank, Shimura Branch
Mizuho Bank, Omiya Branch
Gunma Bank, Ageo Branch
The Musashino Bank, Ltd., Okegawa Branch
Sugamo Shinkin Bank, Itabashi Branch
Saitama Resona Bank, Ageo Branch
The Ashikaga Bank, Okegawa Branch
Main Customers
Sankei Giken Kougyou Co., Ltd.
F-TECH INC.
Nippon Steel & Sumikin Metal Products Co., Ltd.
Nikken Build Co., Ltd.
Access


2146 Kanou, Okegawa-shi, Saitama 363-0001 TEL:048-728-5015 FAX:048-728-5018
Access by car
3 minutes from the Okegawa-Kanou ramp of the Ken-O Expressway.
If you are going by car, exit the "Okegawa-Kanou" ramp on the left in the Kuki direction. Proceed straight on the Prefectural Highway No. 12 to "Okegawa Koko Iriguchi" intersection, then go straight. The company is located on the right.
Access by train
To go by train, take the JR Takasaki Line and get off at Okegawa Station. Tell the taxi driver that you are going to "Kanou no Aida Seisakusho."
If you go by bus, take the bus to Shobu Shako and get off at the "Miya no Waki." The company is a 1-minute walk from the bus stop.