Aida Manufacturing for giant pipe fabrication facilities
Pipe fabrication at Aida Manufacturing.
Where a typical company might handle 60mm size of pipe, Aida Manufacturing has bending equipment that can bend thick pipe with diameters of 80, 90, or 100mm.
Companies that fabricate parts for trucks might have large fabrication equipment, but these companies tend to specialize, and they might not handle the fabrication of generic products.
Machines that are larger than the typical sizes are typical outside of the automotive field.
We at Aida Manufacturing feel that there are plenty of fields where these machines can be used.
List of typical general facilities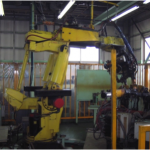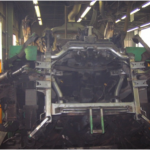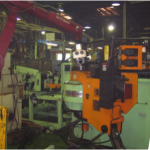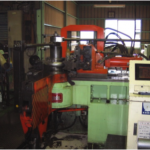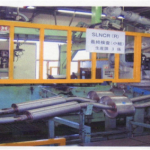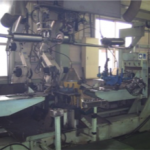 | | | |
| --- | --- | --- |
| Main Facilities | Quantity | Notes |
| Pipe NC bender | 10 | Type 60~type 100 |
| Press machines | 18 | 110t, 250t, etc. |
| Welding robots | 30 robots | Daihen, Yaskawa, Pana, etc. |
| Spot welding robots | 7 robots | Pana, Yaskawa, etc. |
| Transport robots | 5 robots | Fanuc, Yaskawa, etc. |
| Double seamer | 1 | |
| Single seamer | 1 | |
| Hydraulic fabricating equipment | 12 | |
| Spinning fabricator | 1 | |
| Projection welders | 5 | ~100KVA |
| Spot welders | 10 | ~75KVA |
| Long pipe cutters | 4 | Up to model 80 |
| Machining center | 1 | |
| Milling machines | 4 | |
| Lathes | 3 | |
| Compressors | 2 | Up to 100 HP |
| Solid works | 1 | |
| Master CAM | 1 | |
Materials handled
| | | |
| --- | --- | --- |
| Material | Plate thickness | Pipe diameter |
| SUS304 | 0.6 | 19.1 |
| SUS409 | 1.0 | 25.4 |
| SUS429 | 1.2 | 27.2 |
| SUS430 | 1.5 | 31.8 |
| SPHC | 1.6 | 35.0 |
| SPCC | 2.0 | 38.1 |
| SA1D80 | 2.3 | 41.3 |
| etc. | 2.6 | 42.7 |
| | 3.0 | 45.0 |
| | 4.0 | 48.6 |
| | 4.5 | 50.8 |
| | 8.0 | 54.0 |
| | 9.0 | 57.2 |
| | 10.0 | 60.5 |
| | 12.0 | 63.5 |
| | etc. | 65.0 |
| | | 68.0 |
| | | 70.0 |
| | | 76.3 |
| | | 89.1 |
| | | 101.6 |
| | | etc. |